Kamome Spaghetti Aglio e Olio
Kamome Spaghetti Aglio e Olio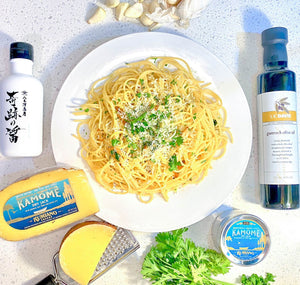 Bring Kamome to your kitchen with this Spaghetti Aglio e Olio!

Prep Time: 4 minutes
Cook Time: 20 minutes
Total Time: 24 minutes


Hirota Bay Sea Salt

1 Pound dried spaghetti

1/4 cup Gunrock Estate Olive Oil

8 Large Garlic cloves, cut to thin slivers

1/2 cup minced fresh parsley

1 Cup freshly grated

Rumiano Kamome Dry Jack cheese

, plus extra for serving

Miracle Soy Sauce
Bring 6 cups of water to a boil. Add 1 1/2 tablespoons of salt and the pasta to the pot. Cook pasta according to the directions on the package. Retain 1 1/2 cups of the pasta cooking water before draining the pasta.

While pasta is cooking, heat up 1/4 cup olive oil over medium high heat in large sauté pan. Add slivered garlic, cook for 2 minutes with consistent stirring until edges are golden. Add reserved pasta water to the sauté pan, bring to a boil and set on low heat. Simmer for 5 minutes after adding 1 teaspoon of salt, liquid should be reduced to about half. Add one 1/2 teaspoon Miracle Soy Sauce to pan.

Incorporate drained pasta into sauté pan until completely coated in sauce. Add minced parsley and

Rumiano Kamome Dry Jack

and toss well. Plate to allow pasta to rest. Finish off with a pinch of Hirota Bay Sea Salt. Serve warm.
Order the Kamome Chef Box to Create!