25 July 2013
Ever wondered where Monterey Jack got its name?
Cheese of the Month: Monterey Jack
Monterey Jack is considered a classic California cheese. It is one of our most popular varieties in the Rumiano Family Organic line, and we have been producing it since the company's birth in the early 1900s. Our Dry Jack (aged Monterey Jack) is another crowd favorite. Monterey Jack has penetrated the US cheese market as a "typical" American cheese, but there is quite a history attached to the name.
If not for David Jacks -- a powerful landowner, developer and businessman in Monterey County, CA -- Monterey Jack may have never become the name it is today. It's often thought that Mr. Jacks created the creamy, pale-yellow cheese, however his influence was mostly used as a catalyst for it's popularity.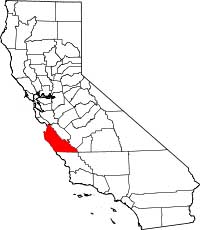 According to an essay written by Wendy Moss at the Monterey County Historical Society, Franciscans had produced a cheese they called "country cheese" since the 1700s in California, and eventually local farmers began to follow suit. Over decades of crafting, the "country cheese" slowly evolved into what we know today as Jack cheese. It was accepted as a local product and quickly became a favorite in the SF/Bay Area as well as the rest of California.
It is also believed, as reported by Real California Milk, that the "creator" of the modern Jack cheese was a man named Domingo Pedrazzi who lived in Carmel Valley. The story suggests that the "Jack" in Jack cheese was applied when Pedrazzi created a cheese that required "the application of pressure." Using a "housejack," he would press the cheese, and thus jack cheese was born.

The truth behind Monterey Jack cheese is that no one person is individually responsible for its creation. Generations of farmers, missionaries, and cheese makers helped evolve the Jack cheese, and although David Jacks is commonly referred to as the creator, it is most likely that his keenness for business, and coincidence of living in Monterey, gave the cheese it's claim to fame. It's hard to say where Rumiano Cheese Company would be today if it weren't for this cheese, can you imagine a world without Dry Jack?!